Discover the heritage, innovations, and landmark events that have shaped Super Fine Handicrafts (referred to hereunder as "SFH"), into successful India's leading manufacturing company of homewares, tableware, giftwares & a variety of metal Handicrafts.
In the year 1977, a child was born to Late Haji Abdul Wahid & Mrs Naseem Begum in a small village named Bazpur (now part of Udham Singh Nagar, Nainital) in India. This child was named Mohd Shahid by his parents. Late Haji Abdul Wahid's family was a farmer but Late Haji Abdul Wahid got his primary education in the village. He moved to the city named Moradabad in India in 1960 to pursue his higher education. After completing his graduation & master skills in the field of brass art wares. He started a small business to manufacture brass bowls & vases and used to supply to wholesale companies. He worked day & night & achieved a big success in the field of brass art wares handicrafts.
(In photo ) – Late Haji Abdul Wahid (Left), Mohd Shahid (Middle) Mrs Naseem Begum (Right)
(Photo ) – Mr Mohd Shahid -Left, Late Mr Haji Abdul Wahid (Middle), Sister Yasmeen Jamal (Right)
Mr Mohd Shahid was sent to Boarding School Saint Amtul's Public School, Nainital to pursue his higher studies. Mr Mohd Shahid used to visit his father's work whenever he was on his college holidays. After completing his education, Mr Mohd Shahid joined his father's work in 1998. He then realized that the products being manufactured by them have vast potential in the International market. He then established the company named SUPER FINE HANDICRAFTS.
VAT REGISTRATION CERTIFICATE 9-11-2000

MR MOHD SHAHID & LATE HAJI ABDUL WAHID REGISTERED SUPER FINE HANDICRAFTS IN THE YEAR 2000

Today, SFH has the team of skilled designer,craftsmen in the company. SFH also have suppliers living in different states of India engaged in manufacturing handicrafts.
Seema Kauser joined SFH in 2003 .Thanks to her beautiful designs which sold around the world like Hot Cakes ! SFH is thankful to her hard work & contribution to SFH Family.
SUPER FINE HANDICRAFTS WAS GIVEN EPCH MEMBERSHIP CERTIFICATE IN 2012
COMPANY'S REAL GROWTH STATRED IN 2013 WHEN MR. MOHD SHAHID STARTED TO VISIT OTHER COUNTRIES & PARTICIPATED IN TRADE FAIRS IN INDIA WITH UNIQUE & EXCLUSIVE PRODUCTS
MOHD SHAHID IN SOUTH AFRICA
Mr Mohd Shahid had a passion to develop the latest & decorative as well as functional tableware. He then started visiting other countries & participating in Trade Fairs. His designs were the talk of the town & were in big demand in Germany, USA, Africa & other parts of the world. It was how the journey started. SFH is now one of the fastest-growing company in Moradabad (India) in the field of metal handicrafts.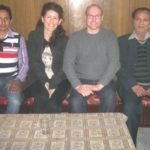 SFH is known worldwide for exclusive handmade products. It is our honesty & commitment to the best quality products at the lowest wholesale prices that many clients from the USA, UK, EUROPE, AFRICA personally visit us for their requirements in metal handicrafts.
SFH thank all our prestigious clients around the world for their business & support.